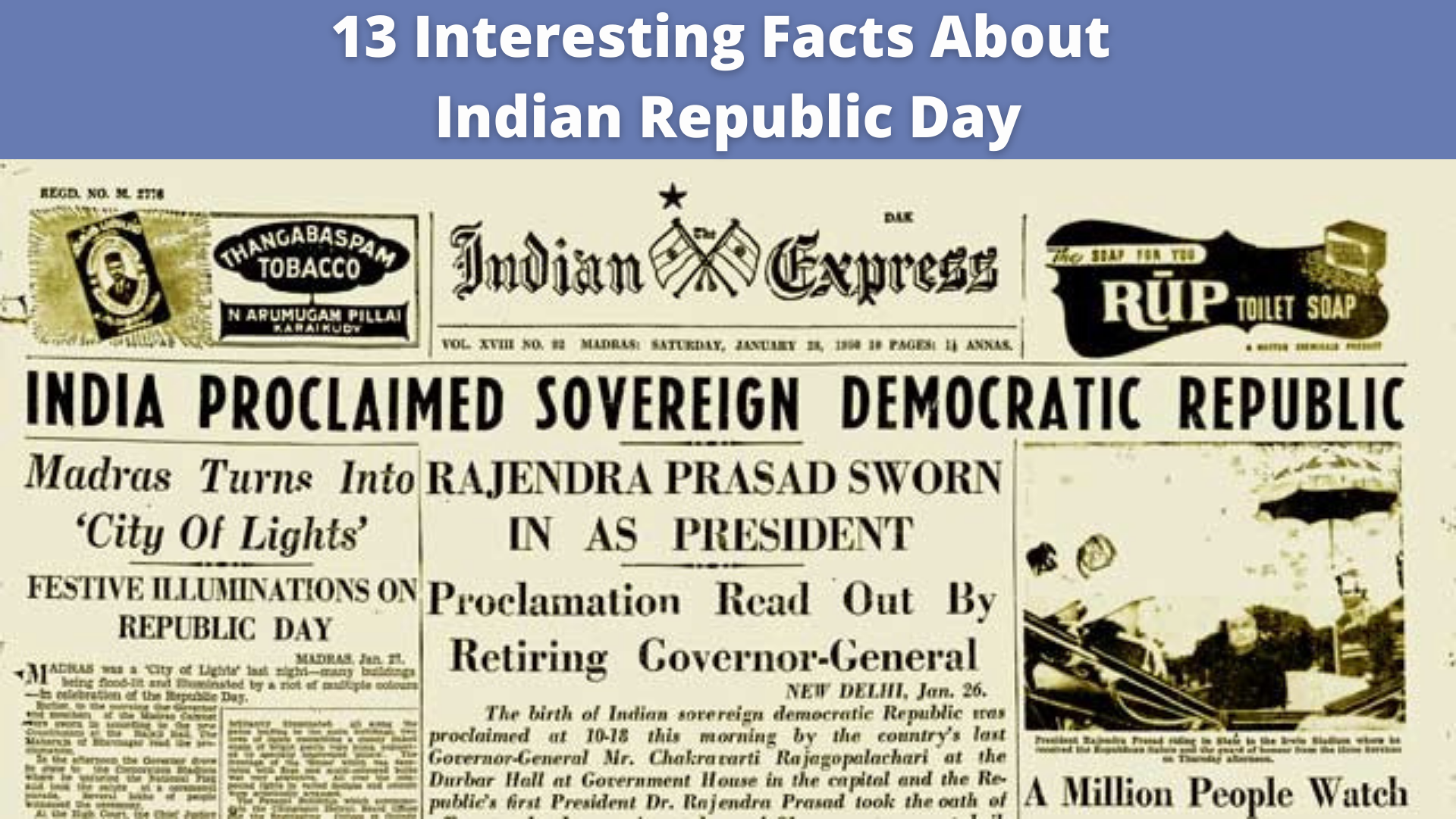 January 26, 1930, was earlier celebrated as India's Independence Day or Purna Swaraj Day. It's the day India decided to fight for complete freedom.
The first Indian Republic-Day parade at Rajpath was held in 1955.
A Christian song, Abide With Me, is played at the Republic Day Parade. It is believed to be one of Mahatma Gandhi's favorite songs.
The Indian Constitution is the longest written constitution in the world with as many as 444 articles divided into 22 parts and 12 schedules. It is written in English and Hindi.
Drafting the Constitution was a herculean task. Dr. B.R. Ambedkar took 2 years and 11 months to draft the Indian Constitution.
Our leaders took the best aspects from other countries' constitutions. The concept of liberty, equality & fraternity came from the French constitution while the Five-Year Plans came from the USSR constitution.
A majority of national awards such as Bharat Ratna, Padma Bhushan & Kirti Chakra are awarded during the Indian Republic Day ceremony.
The first Republic Day parade was held on 26th January 1950, President of Indonesia Dr. Sukarno was invited as a guest. However, in 1955 when the first parade was held at Rajpath, The Governor-General of Pakistan Malik Ghulam Mohammad was invited.
On Republic Day of India, every year, a 21-gun salute is given to the National Flag and the President, during the Flag Hoisting Ceremony. But do you know that firing is not done with 21 canons? Instead, 7- cannons of the Indian army, which are known as "25- Ponders" are used for the firing in 3 rounds.
All the participants of the parade get ready by 2 AM and arrive at the Rajpath by 3 AM. But the preparations for the parade begin in July of the previous year, where all the participants are formally informed about their participation. Till August, they practice parade at their related regiment centers and reach Delhi by December. The participants have already practiced for 600 hours before performing on the 26th of January formally.
The most fascinating part of the event is "flypast". Responsibility for "flypast" lies on the Western Airforce Command, which involves the participation of 41 Aircrafts. The Aircrafts involved in the parade take off from different centers of the Airforce and reach the Rajpath at a fixed time.
This year(Jan 26, 2021) the Ministry of Defence has selected 22 tableaus out of 56 proposals for the Republic Day parade.
This will be the very first time when the woman army officer will be seen leading the Army Day Parade.
Any more interesting facts are there or missing, comment below.

Jai Hind!
We are sorry that this post was not useful for you!
Let us improve this post!
Tell us how we can improve this post?