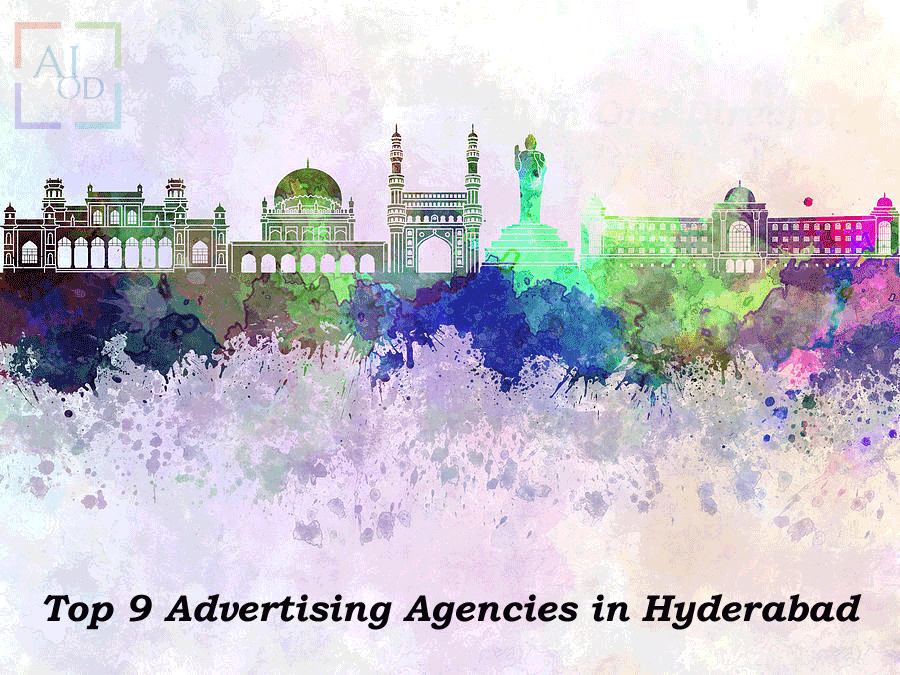 In today's day and age, where companies contend for their relevance, the little steps do count! If you are looking for ways to reach your 'it' crowd, below are the few branding & advertising agencies in Hyderabad. Unfold your brand's victory with their adroit branding services. They manifest your idea of objectivity in the best way to enhance the brand. These Advertising agencies create brand awareness through astonishingly unique names and designs for the brand to lead on true-blue customers.

Do you have an exceptionally great product that is ready to get launched in the market? Looking for optimal ways to advertise your product? Advertising could burn the daylight to catch the eye of the customer. No harm done, talk to below online advertising agencies! They can help you foster your product to large masses. Ad Agencies will make your job easier by entrancing your customers through their innovative ways of advertising your product. Fasten your thoughts and pick who're providing the finest advertising services.
Below are the top branding and advertising agencies in Hyderabad
An advertising agency based in Banjara Hills, Hyderabad, India.
What began as Hyderabad's first branding agency in 2007 has today become a full-fledged and multiple award-winning agencies. We are now a creative communications powerhouse capable of handling every aspect of branding, advertising, digital, films, photography and more. We are one among the top creative agencies in Hyderabad with the finest amalgamation of communications specialists, vast industry experience and expertise.
Janrise Advertising Agency

JANRISE is the Hyderabad's most awarded advertising agency for creative excellence with an amalgamation of techniques from traditional advertising, new media, digital to create innovative campaigns, programs and products that act as a mirror to the customers' minds.
JANRISE Services:
Brand Strategy
Corporate Design
Advertising
Creative Collocation
Internal Brand Engagement
Films
Digital Strategy
Digital Brand Management
Digital Marketing & Social Media Strategy
Cross-Media Planning
Touchpoint Strategy
Idea Development
Customer Engagement Strategies
Brand Extension
Post-Merger & Acquisition Brand Strategies
Re-Branding & Brand Resurrection
Scintilla Kreations Pvt. Ltd.

Scintilla Kreations is one of the best advertising agencies in Hyderabad that brings your products/brands into the spotlight through superior communication solutions. This ad agency in Hyderabad's wide-ranging bouquet of solutions epitomize the best and can deliver what your business needs, when it needs and how it's needed.
Scintilla Kreations Services:
AD FILMS
CORPORATE FILMS
GRAPHIC WALKTHROUGH FILMS
DOCUMENTARY FILMS
CREATIVE PRINT DESIGNING
FM RADIO ADS
MEDIA BUYING
BRAND PUBLICITY
DIGITAL MARKETING
What's In a Name

What's In a Name (WIN) is an integration of a Branding Agency & Digital Marketing Agency based in Hyderabad. They are a team of 25 passionate individuals that's been working hard on creating internationally acclaimed award-winning communication – Branding & Advertising. It is Incepted in 2010, we're also Google Partners with a specialization in Search & Mobile Advertising.
Namesake is a leading Video Production Company in Hyderabad, owned by What's In a Name.
What's In a Name Services:
Branding & Advertising
Website Design & Development
Digital Marketing (SMM)
Digital Marketing (SEO)
Digital Marketing (SEM)
Video Production
Strawberry Branding

Strawberry Branding is a full-service 360-degree Advertising and Branding creative marketing agency based in Hyderabad, India.
The strawberry evolution has started by three young creative management minds. Who realized and sensed the gap for an organization offering branding solutions and brand management 360-degree orientation, and that's when it spotted the opportunity, venturing into the exciting space of building brands by launching an agency that meant what it spelled: Strawberry Branding.
Their Mission: "To lead the creative marketing communications industry in innovation, creativity, quality, and service, providing unprecedented value for our clients, employees, and shareholders."
Nutshell Advertising Agency

A four-year-old Creative and Digital Agency, Nutshell Advertising defines itself as a powerhouse of creativity. They're experts in understanding your business and creating interactive brand experiences.
Divine Monkey

A Hyderabad based new age creative agency that crafts impactful brands for the Game changers. Divine Monkey is the creative pioneer in providing impeccable Branding, logo designs, Brochure designs, Magazine Designs, Flyers, Posters and more. They keep in mind that the client's market and with a thorough understanding of the market and a creative mindset we set ahead to start our designing process.
They help clients get more business with our exquisite designs and strive to establish a significant and differentiated presence in the market that retains loyal customers. If you are looking at evolving a new startup or reformulating your existing brand they are the right people for the job.
OneFlit Advertising Pvt. Ltd.

OneFlit is an integrated advertising agency based in Banjara Hills, Hyderabad. They offer brand solutions to companies, irrespective of the size of their business. From logo designers to brochure designers to writers to planners. Based in the quiet residential area of Banjara Hills, One Flit offers a conducive for creative thinking. They promote an atmosphere of collective ideation and brainstorming to arrive at innovative solutions.
3Dots – Creative Advertising Agency

A one-stop destination for multiple communication solutions in Pune and Hyderabad: Advertising. Design. Digital. 3 Dots Design is a one-stop destination in Pune & Hyderabad for every possible brand communications mandate.  Being media neutral not only helps them optimize every Advertising Rupee that the clients spend but also enables us to add more agility to the clients' Marcom process.
We are sorry that this post was not useful for you!
Let us improve this post!
Tell us how we can improve this post?