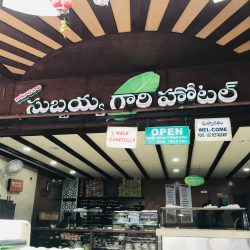 Kakinada Vaari, Subbayya Gari Hotel, a place that I wanted to visit for a long time. When I've visited the hotel it is fully crowded and it is Sunday too. We're three members waiting in a line to enroll our names at the entrance. Done with the queue after waited for 20 minutes and entered inside eagerly to eat the food.
The waiter received us with a warm smile and guided me to the table. He requested us to wash the hands and we did as he said. I thought wow, that's a nice gesture from the waiter. After started serving the food with the sweets, my taste buds are started making salivate.
Any user with Zomato or Swiggy App can easily order from Subbayya Gaari Hotel online, instead of waiting in line. And the parcel will come through a natural basket which they named Butta Bojanam.
The waiter started with a Telugu sweets Poornam boorelu, Boondhi Mitai and Pongali. Within no time I had all those varieties of sweets. And then he started serving curries. I forgot all the curries' names and one I remember is Punugula Curry which is Subbayya Gaari special. Except for Punugula curry, I'm very much disappointed with all of them. And then he started serving rice items which are Veg Biryani, Mango Pickle Rice and Tomato Rice.
Meanwhile, I've asked the server about his staying details. He said the hotel guys provided an apartment for all the working people. And all the workers are from Kakinada.
I heard that a total of 30 items will be served. And then he started serving rice and I started with a mango pickle, ghee, and dhaal. A deadly combination for Telugu people. Apart from the pickles, I'm completely dissatisfied with the food.
Later I asked for Sambar and Rasam. Those two are okay to eat. Finally, he served the pot curd and which is so cool and tasty. Then he served a sweet pan which is so small and easy to swallow directly.
This review is based on my taste and opinion. Comment your experience in Subbayya Gari Hotel, KPHB, Kukatpally.
Subbayya Gari Hotel – Kukatpally, Hyderabad
Price: 210 INR Per Head
Website: http://subbayyagarihotel.com/
Zomato App Review: 4.5/5 (2798 Votes)
Swiggy App Review: 4/5 (10,000 Votes)
Facebook Page Review: 4/5 (12 Votes)
Menu: Click here to get the Subbayya Gaari Hotel Menu
Location:
MIG 295, Sridevi Residency,
Rd No: 4, KPHB Colony,
Kukatpally, Hyderabad,
Contact: + 91 9010 888 842
Email: info@subbayyagarihotel.com

We are sorry that this post was not useful for you!
Let us improve this post!
Tell us how we can improve this post?