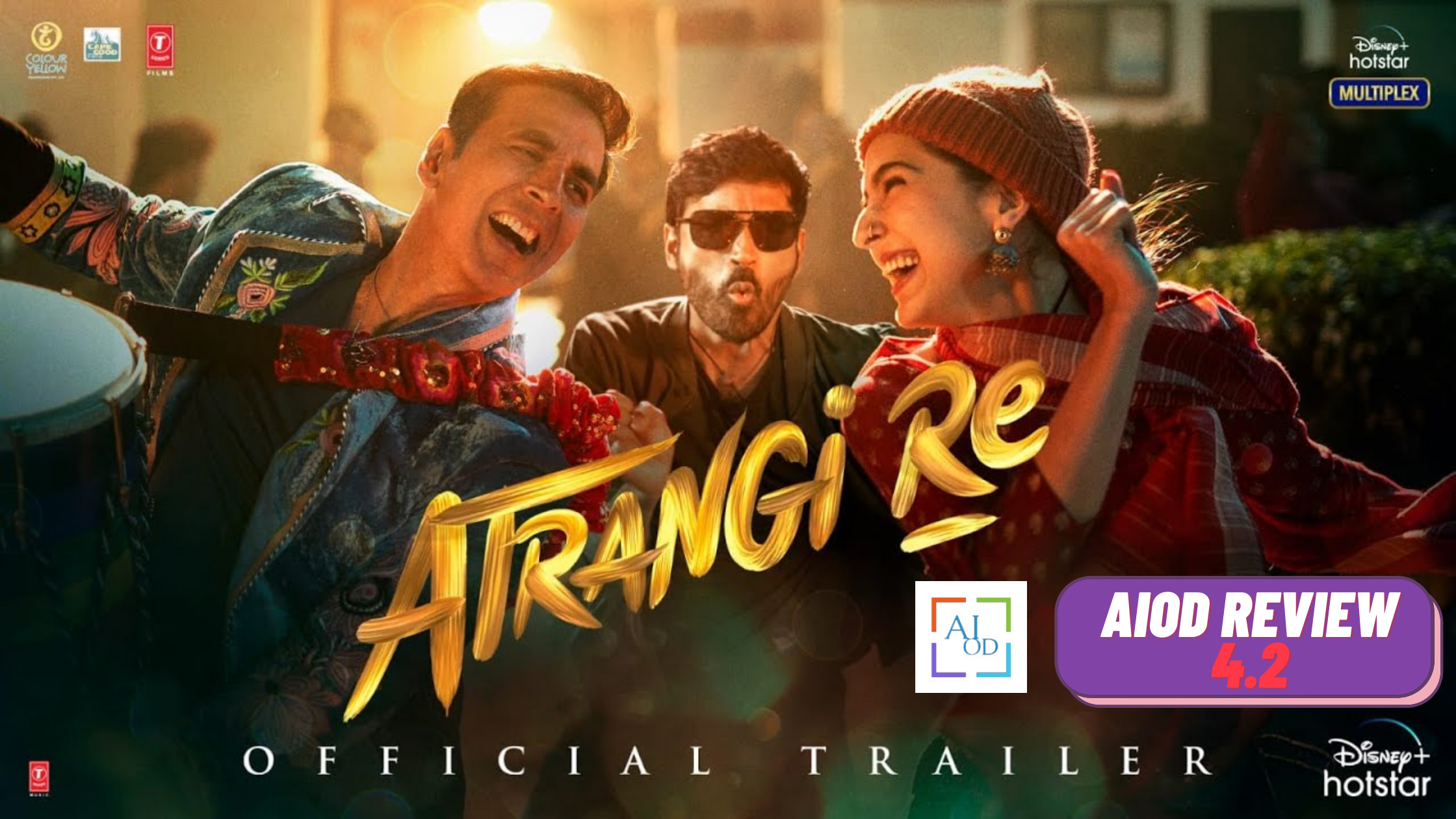 Hello Users, this is a movie review based on my movie knowledge. I'm not a movie critic, I'm a movie lover & I'm writing to share my view on the movie – Atrangi Re
Movie Synopsis: Twisted Triangular Love Tale
Movie Plot:
Rinku Sooryavanshi(Sara Alia Khan) and S Venkatesh Vishwanath Iyer alias Vishu (Dhanush) forcefully got married under the guidance of Rinku's grandmother in a subconscious situation. They two had different love stories and wants to get divorced and marry their loved ones.
As Rinku is in love with Sajjad Ali Khan (Akshay Kumar), a magician, Will Rinku be able to break herself hp from Vishu and become Sajjad's? Will Vishu be able to let go of Rinku? Will Sajjad be able to let go of Rinku's love? How their love is turned to triangular?

To know all these answers have to watch the "Atrangi Re" movie.
Atrangi Re Movie Cast & Crew
Starring: Akshay Kumar, Dhanush, Sara Alia Khan, Ashish Varma
Story, Screenplay, and Dialogues: Himanshu Sharma
Director: Anand L Rai
Producers: Bhushan Kumar, Krishan
Cinematography: Pankaj Kumar
Editor: Hema Kothari
Music director: A.R Rahman
Run time: 2 hours 27 minutes
OTT Release date: 24th Dec 2021
Atrangi Re Movie Review
Anand and Himanshu come again with a conflict love story after Raanjhanaa with Dhanush. Sara Alia Khan wholeheartedly dives into her role to give the best for the story. Akshay's part gets limited scope and his character which is crucial to the story. The second half of the movie will be Dhanush's. He owns every frame with pure conviction till the climax.A unique attempt of picturing mental health issues and childhood trauma.
What's Hot:
The exhort of finding someone as hopeless as Dhanush is good especially in two scenes(love proposing, bottle-breaking) that are emotionally affiliated.
The soul of the movie is A.R Rahman with feel-good music and Background score.
Did I enjoy it?
Yes, but it gets bored in the middle.
Atrangi Re Movie Movie dialogue:
You can either make your lover as your husband and leave, or come and make your husband as your lover.
The Last word: Give it a chance only for Dhanush and A.R Rahman.
My Rating: 2.5/5
IMDb: 6.6/10
Google Users: 79%
Watch Atrangi Re Movie Online Now
https://www.hotstar.com/in/movies/atrangi-re/1260076066/
Watch Atrangi Re Movie Trailer Now
We are sorry that this post was not useful for you!
Let us improve this post!
Tell us how we can improve this post?