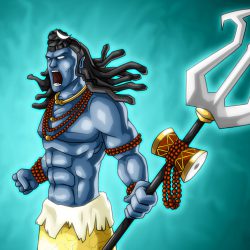 11. Lord Shiva meditated in order to create the world.
12. Lord Mahadev is the husband of Goddesses Parvathi and the father of Lord Ganesha and Kartikeya(Kumara Swamy).
13. Lord Shiva is the protector of all gods and goddesses.
14. Bulls, serpents & deer are linked to Lord Shiva.
15. One of Lord Shivas' avatars is Lord Hanuman.
16. Portrayed as man & woman, Lord Shiva is known as Ardhanarishwara.
17. Lord Shiva has the tongue of flame which depicts the destruction.
18. Lord Shiva is Shambhave, the God who exists for our happiness.
19. Lord Shiva is Pinakine, the God who guards the path of the dharma.
20. Lord Shiva is known as Shashishekaraya, the God who wears Lord Chandra in his hair
21. Lord Shiva is Vamadevaya, who pleases everyone.
22. Lord Shiva is Virupakshaya, the God who is pure and spotless.
We are sorry that this post was not useful for you!
Let us improve this post!
Tell us how we can improve this post?